By
Kyatt
on November 8th, 2017
Super Beeserker was an overambitious and doomed game, but it had a lot of neat hooved characters that would appear in the comic years later!
In other news, I'm officially open for commissions! If you want me to draw something awesome for you (and perhaps watch me draw it on my stream at some point), check out this link for more info.
By
Kyatt
on September 12th, 2017
Posted In:
Blog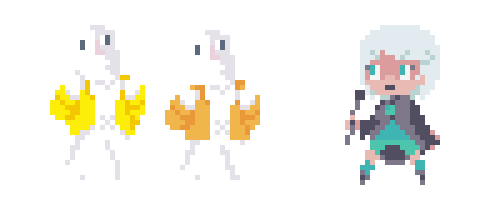 As I may have mentioned at some point, my new game Fist's Elimination Tower is now available on Steam and itch.io. In the game, you play as a series of randomly selected contestants trying to make their way to the top of a 150-story obstacle course, and sometimes, special guest characters show up, including a few Beeserker characters. There's no way to select these characters; they just show up sometimes… unless you enter a secret code I'm only sharing with you right here, right now.
To start your run as the Yellow or Orange Scienceman, go to the casting menu and name a contestant "DARNSON" or "DANGSON" and press the start button. Usually, this will start your run as the contestant you created, but with this codename entered, it will start your run with Yellow or Orange respectively. Can you take a Scienceman from floor 1 and bring him all the way to the top? Good luck, and… LOOK OUT FOR FISTS!