By
Kyatt
on December 18th, 2018
I finally finished you, chapter 12.
Beyond this, I'm not really sure what the future has to hold for Beeserker. For the last couple of chapters, I sorta felt like I've just been going on out of compulsion, and if we learned anything from The Simpsons, it's that this is a bad look. That being said, I think I've left the comic in a good place for me to step away and reflect on it for a little bit. I'm not saying Beeserker is over, but if and when it does continue, I want to make sure that I have a good story set up for it – no more making it up as I go along.
I'll have one more epilogue strip, just so that when people visit the site they aren't immediately staring down the barrel of the tentative ending, but in the meantime, thank you all for your patience over this last chapter, and for reading the comic over this last almost decade.
By
Kyatt
on September 12th, 2017
Posted In:
Blog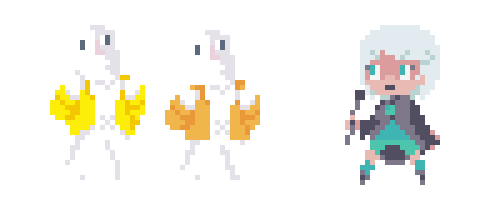 As I may have mentioned at some point, my new game Fist's Elimination Tower is now available on Steam and itch.io. In the game, you play as a series of randomly selected contestants trying to make their way to the top of a 150-story obstacle course, and sometimes, special guest characters show up, including a few Beeserker characters. There's no way to select these characters; they just show up sometimes… unless you enter a secret code I'm only sharing with you right here, right now.
To start your run as the Yellow or Orange Scienceman, go to the casting menu and name a contestant "DARNSON" or "DANGSON" and press the start button. Usually, this will start your run as the contestant you created, but with this codename entered, it will start your run with Yellow or Orange respectively. Can you take a Scienceman from floor 1 and bring him all the way to the top? Good luck, and… LOOK OUT FOR FISTS!