on
March 17, 2013
at
2:08 am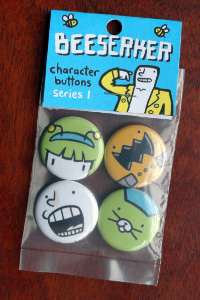 Imagine, a bag containing the faces of Beeserker, Trigona, Scootsie, and one of the Sciencemen – a bag that you could open in order to remove the faces, and then pin said faces onto your clothing. Well, imagine no more! With this set of four 1″ buttons, it's possible to do essentially just that! You can buy them now at the Hivemill (along with my Flying Trigona print).
Oh right, I also mentioned something about a giveaway in the title. I have one set of buttons that I'm going to give out to one of YOU! For FREE! To enter the giveaway, simply leave a comment on this blog post – any kind of comment will do, be it an extensive TWEWY fanfic wherein Neku unleashes the power of a Scootsie button, or a simple "gimme gimme". The deadline for entries is 11:59 PM EST on March 24th, 2013, at which time I will pick one of the entries at random to receive this set of buttons. (Limit 1 comment per person, and be sure to enter a valid email address, as that is how I will be contacting the winner.)
By the way, I'd like to thank Tom Brazelton of Brazelbuttons for making all of these buttons. It's especially cool of him not to charge extra for splitting an order into multiple designs – if any other button manufacturer had their way, these bags would each just contain four Scienceman buttons.