Scootsie Plus Three
on
October 28, 2013
at
12:47 pm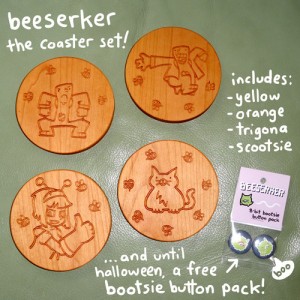 When life gives you lemons, make lemonade. About a year ago, I learned that when life gives you access to a CNC router, make wooden drink coasters with one of your webcomic's characters carved into them, so the lemonade doesn't leave a mark on your table.
Until now, I've only been selling coasters with Scootsie carved into them, but this week, I expanded to four designs. I made a pair of Scienceman Twin coasters and a Trigona coaster, which may look somewhat familiar to those who follow other Hiveworks projects. I'm selling them as a set at my store, and as a SUPER SPOOKY bonus, if you buy a set by Halloween, I'll throw in a pack of Bootsie buttons for free (don't add those to the cart – I'll add them automatically). On November 1st, I'll start selling the new coasters separately. Sorry, but I only have four of each coaster, and I want to make sure that somebody doesn't buy up the lot of one of them right off the bat.
In conclusion, I would be remiss if I didn't end one of these "new product" blog posts without reminding you that my shirt store is also open, and I'm still taking drawing commissions. Kyatt needs money for bags of tiny Halloween candy!