Jack-B-Lantern
on
October 1, 2014
at
9:09 am
I've done it, you've done it – at some point, I think we all joked about how Beeserker's head looks like a Jack-O-Lantern. Therein lies the premise for the contest I'm hold this month. A pumpkin carving contest! The First Annual Beeserker Pumpkin Carving Grand Championship!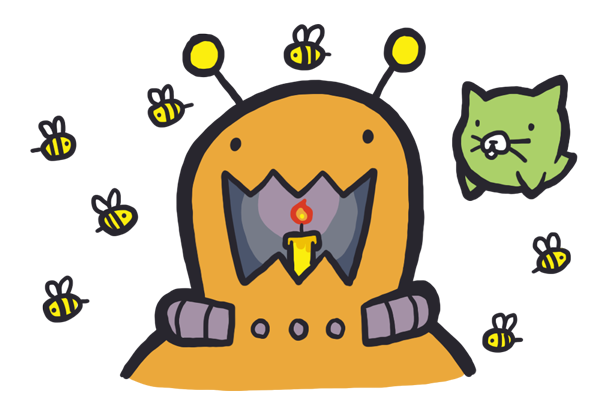 The rules are simple – make a pumpkin (or pumpkins) look like a Beeserker character (or characters), take a picture, and send it to me. As long as the photo involves pumpkins and this comic, you're in the game. Contrary to the name of the contest, I don't even care if you paint the pumpkins or use lesser gourds (although points will likely be deducted). The only thing I ask is that you don't endanger yourself or others while taking said picture. That means no filling a pumpkin with actual bees or making an Ursinerator Jack-O-Lantern fueled by an entire bottle of lighter fluid. Please.
Prizes will be awarded to my three favorite entrants. The second and third place winners will each receive a set of appropriately spooky Bootsie pins and a 4″ x 5″ doodle of a Beeserker character of their choice. The first place winner will receive a set of all six Beeserker pins, the aforementioned character doodle, AND this one of a kind Winner's Coaster…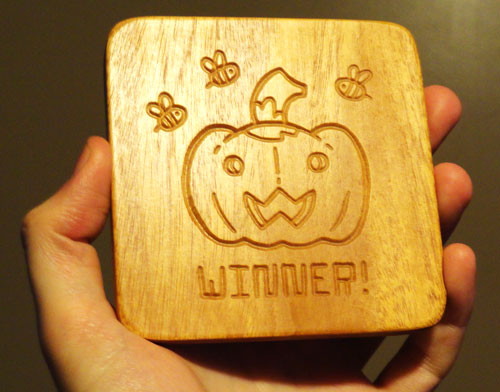 While your winning pumpkin will quickly rot away or be destroyed by Billy Corgan and his gang of ne'er-do-wells, this wooden coaster will be long-lasting proof of both your skill and my pride for you. Also, you can set drinks on it. Send entries to kyatt@beeserker.com by November 2nd, 2014 (I'm giving you a couple of days, should you want to put the pumpkins out on Halloween night).
Have fun, and try not to cut your fingers off!