It's a Back From ConnectiCon Sale!
on
July 17, 2013
at
11:20 pm
ConnectiCon was pretty great – I met a lot of Hiveworks people and even a few fans of my comic. Thanks to all of you for making this weekend so great. As I squat here unpacking all my stuff from the trip, I realize that I still have a bunch of stuff left to sell. First of all, I have these brand new Bootsie buttons, featuring the ever-so-popular enemy from Scienceman Twins in both normal and blushing poses.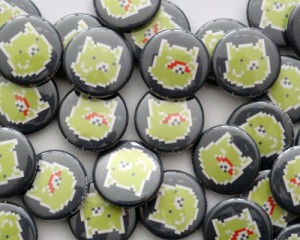 Also, while sitting at my table, I drew a lot of Sharpie sketches. That weekend, I essentially drew a month worth of BTI updates (or at least, I would've, had I remembered to take pictures of them before selling them). These seven 5.5″ x 7″ pieces are the only ones I have left. I got Joan, Pelly, the Soldier, a random Koopaling, Wario, Waluigi, and a buff Sneasel in a Bane mask.
So here's the deal – while supplies last, I'm selling some ConnectiCon bundles. For $6 USD, you can get both Bootsie buttons AND your choice of one of the above drawings (assuming it hasn't been sold yet). This includes shipping, should you live in the US or Canada. If you're interested, send me an email (kyatt [at] beeserker [dot] com) with your choice of the above sketches. It's first come first served; if I still have it, I'll send you a Paypal invoice, and we'll take it from there.