Flying Trigona Print
on
November 26, 2012
at
10:59 am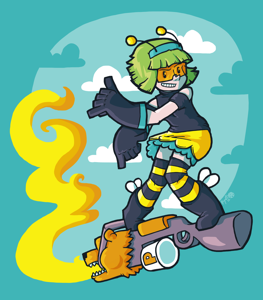 Looking for Beeserker merch that ISN'T made of wood? I might be able to help, as long as you don't point out that paper is actually highly processed wood.
Anyway, Hiveworks, the webcomic network I'm affiliated with, recently opened the Hivemill, an online store that sells webcomic-based prints and such. One of these prints was made by me, and features Trigona and her flamethrower, the Ursinerator, which apparently doubles as a hoverboard. Click here to check it out!
Go visit the store, and get a good chunk of your webcomic holiday shopping done in one convenient place!
P.S.: You have less than a week to get some Scootsie coasters at low, low introductory prices; they go up on December 1st.