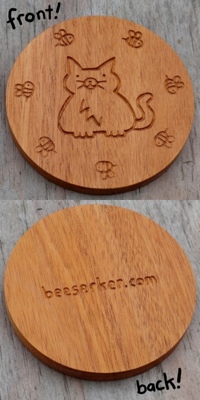 If you love Scootsie as much as you hate placing beverages directly on tables, you should buy a fine wooden Scootsie coaster. Whether you know him as Scootsie or Impostor Minineko, this stationary cat has carved his way into the hearts of many, much like how I carved his likeness (along with seven bees and the site's URL) into these discs of polished mahogany or cherry wood approximately measuring in at a diameter of 4″. Click here to see it in more detail.
Are you not a "coaster person"? These things have many more uses than just coasting! Use them as wall decorations, hockey pucks, or wagon wheels! Make important decisions by flipping them like coins! Drill a hole through the top and attach it to a chain to make a totally gangsta-ass medallion (drill and chain not included).
(Make note of which of the two woods, or what combination thereof, you want in the Paypal instructions field. If not specified, the wood will be whichever one I have the most of at the moment.)
NOTE: At this moment, I can only accept orders from the US or Canada. Sorry, world.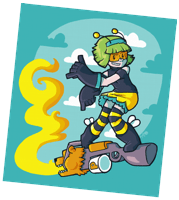 There's other Beeserker merch available, just not directly on this page. This print of Trigona flying around on her trusted flamethrower, the Ursinerator, can be purchased via The Hivemill, a store that sells prints based on several of the comics you often see shuffling through that banner in the right sidebar of the site.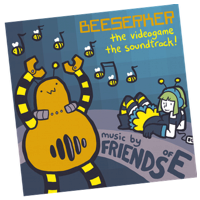 You can also download Friends of E.'s old-school soundtrack to
Beeserker The Videogame
for not but a dollar by visiting
the band's Bandcamp page
. It's a catchy almost 10 minutes of chiptune music that you can listen to while YOU'RE gathering bees or wrecking an office building!