A New Game and a New Store!
on
August 5, 2013
at
10:53 am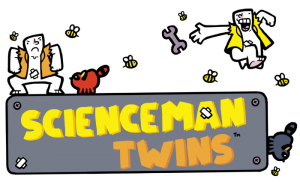 All of us over at Sugar Rockets are proud to present our second game, Scienceman Twins! As you may have heard, it's a two player game where you can scale a never-ending laboratory as the two Sciencemen, or as one of eight special guest twins from other Hiveworks webcomics. Grab a wrench and a friend and play the game for free right here!
I'd also like to announce today that while the Hivemill is under construction, I'm opening my own Beeserker store. You can buy my coasters and buttons there, and I'm hoping to get some prints up there soon. I still have some of those Sharpie doodles left, so while supplies last, I'll throw one of those in for free with any purchase of $5 or more (before shipping). So if you buy a coaster or both button packs, you might also get a one-of-a-kind drawing of an Animal Crossing character or Sneasel in a Bane mask.